Best Photoshop training in Chandigarh
Excellence Technology offers best photoshop training in chandigarh. Nowdays photoshop is the necessary tool to learn to everyone who wants to make their future in Advertising industry. In today's digital world everyone need a photoshop expert to design their product and services. if product portrayed beautifully and smartly then we can easily increase the sale. Those who have passed 10+2 can learn photoshop and earn handsome salary.Photoshop is the most popular tool among the web designer and image editors.photoshop gives the huge range of tools to edit or create the images.join our best photoshop training n chandigarh.
Best Photoshop training fee in Chandigarh
We offer core Photoshop and Advance Photoshop.
Duration : 3months
Course Fee : 10,000/-
Best Photoshop training syllabus in chandigarh
Lesson 1: INTRODUCTION TO ADOBE PHOTOSHOP CS4
About Photoshop
Navigating Photoshop
Menus and panels
Opening new files
Opening existing files
Lesson 2: Getting Started with Photoshop
1. Exploring the Toolbox
2. The New CS4 Applications Bar & the Options Bar
3. Exploring Panels & Menus
4. Creating & Viewing a New Document
5. Customizing the Interface
6. Setting Preferences
Lesson 3: Working with Images
7. Zooming & Panning an Image
8. Working with Multiple Images, Rulers, Guides & Grids
9. Undoing Steps with History
10. Adjusting Color with the New Adjustments Panel
11. The New Masks Panel & Vibrance Color Correction Command
12. The New Note Tool & the Save for Web & Devices Interface
13. The New Auto-Blend & Auto-Align Layers Commands
14. The New 3D Commands

Lesson 4: RESIZING & CROPPING IMAGES
1. Understanding Pixels & Resolution
2. The Image Size Command
3. Interpolation Options
4. Resizing for Print & Web
5. Cropping & Straightening an Image
6. Adjusting Canvas Size & Canvas Rotation

Lesson 5: WORKING WITH BASIC SELECTIONS
1. Selecting with the Elliptical Marquee Tool
2. Using the Magic Wand & Free Transform Tool
3. Selecting with the Regular & Polygonal Lasso Tools
4. Combining Selections
5. Using the Magnetic Lasso Tool
6. Using the Quick Selection Tool & Refine Edge
7. Modifying Selections

Lesson 6: GETTING STARTED WITH LAYERS
1. Understanding the Background Layer
2. Creating, Selecting, Linking & Deleting Layers
3. Locking & Merging Layers
4. Copying Layers, Using Perspective & Layer Styles
5. Filling & Grouping Layers
6. Introduction to Blending Modes
7. Blending Modes, Opacity & Fill
8. Creating & Modifying Text

Lesson 7: PAINTING IN PHOTOSHOP
1. Using the Brush Tool
2. Working with Colors & Swatches
3. Creating & Using Gradients
4. Creating & Working with Brushes
5. Using the Pencil & Eraser Tools
6. Painting with Selections

Lesson 8: PHOTO RETOUCHING
1. The Red Eye Tool
2. The Clone Stamp Tool
3. The Patch Tool & the Healing Brush Tool
4. The Spot Healing Brush Tool
5. The Color Replacement Tool
6. The Toning & Focus Tools
7. Painting with History

Lesson 9: INTRODUCTION TO COLOR CORRECTION
1. Color Spaces & Color Modes
2. The Variations Command
3. The Auto Commands
4. Adjusting Levels
5. Adjust Curves, Non-Destructively, with Adjustment Layers

Lesson 10: USING QUICK MASK MODE
1. Quick Mask Options
2. Painting a Selection
3. Saving & Removing a Selection from the Background

Lesson 11: WORKING WITH THE PEN TOOL
1. Understanding Paths & the Pen Tool
2. Creating Straight & Curved Paths
3. Creating Combo Paths
4. Creating a Clipping Path

Lesson 12: CREATING SPECIAL EFFECTS
1. Getting Started with Photoshop Filters
2. Smart Filters
3. Creating Text Effects
4. Applying Gradients to Text

Lesson 13: EXPORTING YOUR WORK
1. Saving with Different File Formats
2. Saving for Web & Devices
3. Printing Options
4. Credits
After completion of photoshop training in chandigarh, Excellence technology will conduct 5 Interviews.Out of 5 interviews candidate will easily crack 2 interviews.
How To Reach Us
ISO 9001:2015, Certified Company
Excellence Technology
C-133, First Floor, SAS Infonet Building, Industrial Area, Sector 72, Phase 8, Mohali
Call now: 9317788822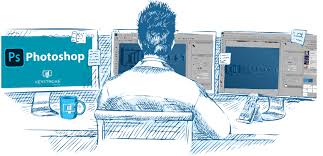 Photoshop is a raster graphics editor developed and published by Adobe Inc. for Windows and macros. It was originally created in 1988 by Thomas and John Knoll. Since then, the software has become the industry standard not only in raster graphics editing, but in digital art as a whole.